Fell Out of Hospital Bed in New York?  A lung cancer patient was recently admitted to New York Community Hospital in Brooklyn.  She was diagnosed with malnutrition, anemia and dehydration.  What happened next remains a mystery.
The woman's son found her laying on the floor beside the bed.  She was pronounced dead shortly thereafter.
While the New York City Medical Examiner's office has required the hospital records, NY Community Hospital has thus far failed to produce the documentation.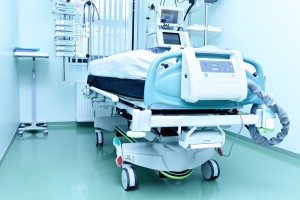 Lawyers for Patient who Fell Out of Hospital Bed
Hospitals and nursing homes are required to make sure patients are secure in their beds.  Railings are often required for patients prone to falling out of bed.
If you or a loved one fell out of a hospital bed, a legal claim for money damages may be filed in court.
Our personal injury attorneys represent accident victims in Brooklyn, Bronx, Queens, Manhattan and throughout the New York area.
Call or Text: (212) 221-9893
● Falls
● Nursing Home Accidents
Call our personal injury lawyers for a free consultation today.