An NYC public bus hit & run accident fatally injured a New York pedestrian on November 3, 2015. The elderly woman was clipped and ran over while she crossed Fulton Street in Ocean Hill, Brooklyn. Shocked witnesses said the driver fled the scene.
Reports indicate the woman did not use the crosswalk as required. However, the law still requires a driver to yield to pedestrians.  Moreover, the law requires any driver involved in a collision to stop, render aid to anyone injured, and identify themselves to other parties involved.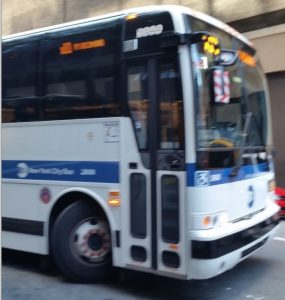 A Metropolitan Transportation Authority (MTA) bus hit & run is rare, as the bus drivers are government employees. Although they may occasionally cause an accident, they would not be expected to flee the scene.
The reasons for this bus hit and run remain under investigation. The pedestrian killed was using a handicap walker, and presumably was crossing the street slowly and not darting into traffic.  Further, as the bus clipped and ran over the pedestrian, it also likely made contact with her walker.  This sort of turbulence should have been noticeable to the driver.
The MTA bus was empty of passengers at the time of the collision. The bus driver did stop the bus briefly before continuing on his way.
The NYPD identified the bus as from the B15 route, which runs between JFK Airport and Marcus Garvey Blvd / Broadway. By the time police tracked down and seized the bus as evidence, a new driver was behind the wheel and passengers had begun to board.
The bus hit & run driver was later arrested and charged with failing to yield the right of way to a pedestrian, failing to exercise due care, and fleeing the scene of an accident.
Call or Text: (212) 221-9893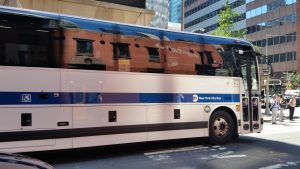 Bus Hit & Run Lawyer
No defenses from the driver have emerged.
A bus hit & run of this kind creates significant legal liability for the MTA. The victim's family is expected to file a civil lawsuit against the City or State of New York as well as the negligent driver.
The liability of the City or State would derive from the legal principles of Respondeat Superior and Vicarious Liability. Pursuant to theses legal doctrines, an employer or owner can be held liable for injuries caused by the negligence of its employee.
The Transit Workers Union president spoke out on behalf of the victim's family.
If you have been injured in an MTA bus hit & run accident in Manhattan, Brooklyn, Bronx, Queens or Staten Island, call our personal injury lawyers for a free consultation today.