Access-A-Ride Accident Lawyers. New York City's Access-A-Ride (AAR) service provides motor vehicle transportation to thousands of disabled New Yorkers. 
The ride sharing program is operated by the Metropolitan Transportation Authority (MTA) and New York City Transit Authority (NYCTA), as required by the federal Americans With Disabilities Act (ADA).
Hurt in an Access-A-Ride Accident?
Call our personal injury lawyers for a free legal consultation.
Call or Text: (212) 221-9893
Access-A-Ride operates a fleet of mini-buses, vans and other vehicles. Their drivers shuttle disabled passengers around Brooklyn, the Bronx, Queens, Manhattan and Staten Island.
Access-A-Ride passengers include those unable to walk or climb stairs on their own, as well as people afflict with a variety of other physical and mental health ailments.
When a disabled passenger is hurt in an Access-A-Ride accident, a claim for monetary compensation can be filed in court.
However, a Notice of Claim must be filed with the City of New York within 90 days of the accident.
In addition, claims for compensation can be filed against any other parties at fault for the accident. For example, if an Access-A-Ride vehicle was struck by another car, a claim can be filed against the owner and operator of that car.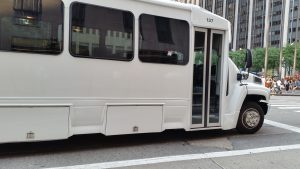 Common Causes of Access-A-Ride Accidents:
● Falls
Common Access-A-Ride Injuries:
Access-A-Ride Accident Lawyers
Thousands of Access-A-Ride accidents occur every year in New York City.
Unfortunately, due to pre-existing medical conditions, it can sometimes be difficult to pinpoint the exact injury of physical suffering caused by the accident.  Therefore, if you have been the victim of an Access-A-Ride accident, obtain a prompt diagnosis of your medical condition from a doctor.
Our Access-A-Ride accident lawyers are experienced with all of the most common special needs vehicle accidents, including:
● Wheelchair Ramp & Elevator Accidents
● Poor Vehicle Maintenance or Broken Railing
● Wheelchair tip over
● Seatbelt Injury
● Pedestrian Hit by Access-A-Ride vehicle
● Hurt entering or exiting an Access-A-Ride door
● Hurt alongside a parked Access-A-Ride vehicle
For a free consultation about pursuing a claim for compensation, call our Access-A-Ride injury attorneys without delay.  We will review your police report or medical records and provide a free case evaluation.  In addition, we can present your options for pursuing payment of medical bills, as well as compensation for physical pain and suffering.
Our experienced attorneys represent disabled New Yorkers hurt in motor vehicle accidents throughout New York City and beyond.
Call our Personal Injury Lawyers for a Free Legal Consultation.