When a driver is suddenly blinded by lights, the automobile can veer out of control and cause serious injury.  Common causes of a bright lights accident include oncoming headlines from another vehicle, as well as glaring sun light.
However, New York City is also known for its bright signs and billboards, which can cast a distracting glare.
Now a new bright light hazard is coming to the 5 Boroughs.
Gov. Cuomo announced in February 2017 that New York City's bridges and tunnels will be outfitted with multicolor LED lighting.
The "New York Harbor Crossings Project" will light up the City's bridges and tunnels with thousands of dramatic, multi-color blubs.
For those drivers who have been blinded by lights in the past, this announcement comes as New York's newest safety hazard.
Gov. Cuomo excitedly explained the LED lighting will be controlled by computers that can program the coloring to honor holidays and special occasions.
In addition, light shows paired with loud music are expected to draw tourists from all over the world.
Call or Text: (212) 221-9893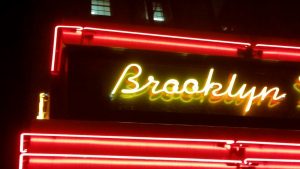 Common Types of Bright Light Accidents:
● Falls
Common Bright Light Injuries:
NYC Bright Lights Accident Lawyer
Have you have been hurt in bright lights accident, or other accident caused by the negligence of a third party?
Call our motor vehicle accident lawyers for a free consultation today.
We represent accident & injury victims in Brooklyn, Bronx, Queens, Manhattan, and throughout the NYC area.
Click here for more information about our automobile accidents legal practice.
Blinded by the Lights
Drivers are warned to keep their eyes on the road while crossing these Metropolitan Transportation Authority (MTA) Bridges:
Henry Hudson Bridge
Bronx Whitestone Bridge
Throngs Neck Bridge
RFK Bridge
Verrazano-Narrows Bridge
Marie Parkway-Gil Hodges Bridge
Cross Bay Veterans Memorial Bridge
George Washington Bridge (operated by the Port Authority of New York & New Jersey)
Tappan Zee Bridge (operated by the NY Thruway Authority)
Tunnels to receive the lights include:
Queens Midtown Tunnel
High L. Carey Brooklyn Battery Tunnel