A woman tripped on elevator floor boards in her New York apartment, causing her to fall and sustain serious bodily injury.  Her personal injury lawsuit blamed the elevator fall on unevenness between the floor of the elevator and the floor of the building.
In attempt to prevent an elevator fall, the federal Americans with Disabilities Act limits the allowable difference in floor and elevator landing height to just ½ inch. If there is more than a ½ inch step up or down to enter or exit an elevator, the elevator is out of compliance with the law.
The building owners filed a motion to dismiss the lawsuit, on the grounds they had no prior notice of the defective condition.
A building maintenance worker testified that the building learned of the landing platform alignment problem only 12 days before the Plaintiff tripped on the elevator.
In opposition to dismissal, the injured woman argued that the building management company must have been aware of the problem for much longer than 12 days, as prior tenants and visitors had been injured or complained.
The Plaintiff pointed out that the building worker testified to asking the management company why they "couldn't… have that elevator fixed once and for all."
The Plaintiff also submitted evidentiary proof that elevator maintenance workers had been called to the building 7 times in the year leading up to her elevator fall.
However, there was no proof that those 7 maintenance calls pertained to the excessive gap at the elevator landing.
Call or Text: (212) 221-9893
● Wrongful Death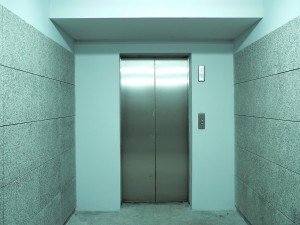 Elevator Fall Ruling
The court determined that an issue of fact existed as to whether, and how much, prior notice the building owner had of the problem. Accordingly, the owner's motion to dismiss the lawsuit was denied, and the case was scheduled to proceed to trial.
If the building owners are able to prove to a jury at trial that they were unaware of the defective condition, the elevator fall victim's claim against them can be dismissed.
Either way, the Plaintiff's separate trip and fall claim against the elevator service company will proceed.
Tripped on Elevator?
Take prompt legal action because the law limits the time to file a claim.