A garbage truck accident just south of Prospect Park in Brooklyn has made legal headlines.  The privately owned sanitation truck slammed into a double parked van on Flatbush Avenue near the intersection of Beverly Road.
The van had been shuttling passengers around town, and had stopped to let some people out at the street corner. The van had partially pulled over to the side of Flatbush Avenue, but a portion of the vehicle stuck out and blocked the lane of traffic.
One passenger of the van remained in the back seat, with her seat belt on, when the garbage truck plowed into the van's rear end.
That passenger filed a personal injury lawsuit against the sanitation company, alleging the garbage truck accident caused her serious bodily injury.  The lawsuit is titled Phillip v. D & D Carting Co., Inc., 2014-02234, (App. Div., 1st, Decided December 9, 2015)
Call or Text: (212) 221-9893
Common Garbage Truck Accidents:
Common Garbage Truck Injuries: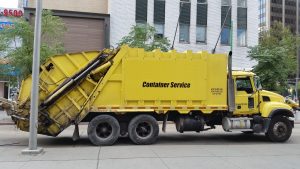 Garbage Truck Accident Lawyers Spar in Court
Defense attorneys argued the sanitation truck operator should not be held 100% responsible for the accident. The truck driver alleged he skid on oil and that the van should not have been blocking the lane of traffic. 
The waste removal company argued that the Plaintiff herself shared in responsibility, by virtue of having been a passenger in an unlawfully standing vehicle.
The Plaintiff filed and prevailed on a motion for a declaratory judgment, determining that the garbage truck accident could not be attributed to any negligence committed by her.
Just because the woman had patronized the van service, she was not responsible for any negligence of the van's driver.
Hurt in a Garbage Truck Accident?
Be sure to gather all available evidence of who is at fault. Garbage truck accidents involve a variety of mechanical and legal issues.
Call our garbage truck accident lawyers for a free consultation today.  Our personal injury law firm represents motor vehicle accident victims in Manhattan Brooklyn Bronx Queens & beyond.