If you have been hit by a truck, carefully document the vehicle's identification.
Trucks frequently travel across city and state lines, and even across the country.
Tracking down the owner of the vehicle is an important step in filing a claim for money compensation.
Review the truck's license tag and make note of the tag number as well as the State that issued the tag.
Many truck license tags also contain stickers or other indicators of the license tag expiration date. This information should be noted as well.
If you are in the line of employment at the time of the accident, this information will also be needed for a workers compensation claim.
After being hit by a truck, you may not have the immediate health or frame of mind to request the vehicle registration and insurance information from the driver.
When a police report is filed, this information can usually be located there. However, if the truck driver does not have the vehicle registration and/or insurance documents, the police report may be incomplete.  In this instance, the information can usually be obtained by writing to the Department of Motor Vehicles of the truck's home state (as shown on the license tag), and paying the required fee (usually around $10).
If you were hit by a truck owned or operated by the City or State of New York, a Notice of Claim must be filed within 90 days of the accident.
Call or Text: (212) 221-9893
Common Trucking Accidents:
Common Truck Injuries: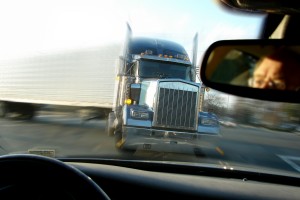 Hit by a Truck in New York?
If you have been hit by a truck, it is also important to find out who was operating the truck at the time of the accident.
Many commercial vehicles are rented by contractors and sub-contractors. This is especially true in cases involving semi tractor trailer trucks and construction trucks.
Find out the employer and general contractor of all people operating the truck at the time of the crash.
Make note of how many people occupied the truck at the time of the accident, along with their physical descriptions if possible. Also note whether the truck driver has any co-workers attending to related matters outside of the truck.  This may include loading or unloading truck cargo, or performing maintenance, etc.  These details can serve as important evidence if you file a case.
For a free consultation regarding a motor vehicle accident, contact our New York personal injury lawyers today.
We fight for accident victims in Brooklyn, Bronx, Queens, Manhattan, NYC.