A distracted driver set off a chain reaction street vendor accident involving four vehicles, and injuring four people.  The driver rear-ended a yellow taxi, which then jumped the curb and crash into a Halal food cart.  The street vendor's cart was flipped over onto a Con Edison utility truck parked nearby.
The accident occurred on the Upper West Side at the intersection of Broadway and West 62 Street on the afternoon of May 8, 2016.
The mayhem was put into motion when the driver became distracted while talking on his cell phone, and did not notice the taxi that had pulled over to pick up a passenger at the side of the road.
The driver fled the scene and is currently being sought by the NYPD.
Pedestrians were left jittered by the taxi jumping the curb.
The driver may have a partial defense that the taxi stopped short in front of him.  However, the driver was required by law to stop at the scene.  His failure to stop weighs heavily against him in assigning fault for the accident, especially because the jumped curb put pedestrians at risk.
Call or Text: (212) 221-9893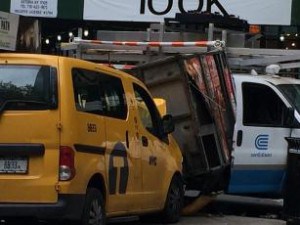 Street Vendor Accident Severed Woman's Arm as Taxi Jumped Curb
A woman at the scene sustained a serious gash to her arm.  The injury severed a portion of her arm's vital tendons. 
She was rushed to Bellevue Hospital's emergency room where doctors were unable to save the traumatized limb.  The woman was ultimately admitted to the operating room, where a surgeon had to partially amputate her arm and seal off the hemorrhaging tissue.
A severed limb injury of this magnitude is expected to require years of physical therapy and continued medical treatment.
If the hit & run driver is apprehended by the police, his vehicle's insurance policy would be available to pay the medical bills and compensate the victim for her pain and suffering. 
However, if the distracted driver is not found, a claim for compensation may be filed with the Motor Vehicle Accident Indemnification Corporation.  MVAIC is a New York State entity that provides insurance coverage in automobile and street vendor truck accidents where the party at fault cannot be found, and the injured victim does not have a car accident insurance policy.  When the victim is a pedestrian struck in a jumped curb accident, she may not have car accident insurance coverage of her own and it will be necessary to promptly notify MVAIC of the claim.